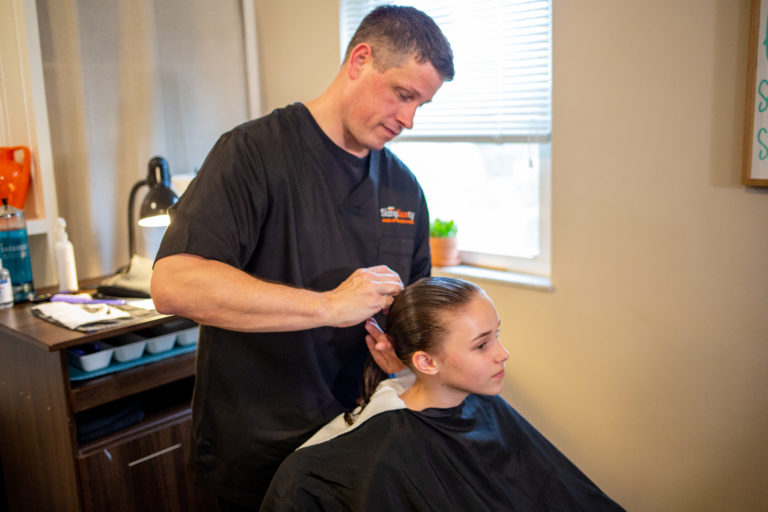 My name is Pete Wigginton, owner/operator of Simplicety, all-natural head lice removal. I'm a Northern Kentucky native, and a graduate of Campbell County High School. Many people ask how I ended up in this line of work? That's a great question, because not once in my life, did I ever dream that I would be a nit-picker.
As far as my educational background after high school, I briefly attended Northern Kentucky University and the University of Kentucky. I never earned a degree, so unfortunately I became the dreaded "college-dropout". Honestly, I was the kind of person that never truly knew what I wanted to do with my life. Then, when I hit my 30's reality began to set in, as well as the realization that I really needed to do something…find a real career basically it was time to grow up.
With that being said, in 2012 I decided to move to Atlanta, GA and crazy enough, I became a technician at a successful lice salon. It was there that I became the, "head lice expert" that I like to call myself today ……I learned how lice live, how they feed, how they operate,….this stuff just fascinated me for some reason…but the best part was that I learned how to get rid of
them…..and get rid of them in a successful, safe and easy manner. 
At the end of 2012 I moved back to Northern Kentucky. Being a life-long resident here I knew that there were no other businesses like this one. Since it had always kind of been a dream to have my own business, I took the leap, and Simplicety was born in January 2013. Now, I admit it has taken some time to build the name, but with hard work and lots of happy clients comes success. Relieved moms and dads sharing their stories has been the best advertisement I could ever ask for. I am proud to say as a result of this success, Pediatric Associates of Northern Kentucky now recommends Simplicety as an alternative recommendation when battling head lice. In addition, I've done work with Shriners Hospital for Children – Cincinnati, St. Elizabeth Healthcare, YMCA Camp Ernst and with many Tri-State schools in both the private and public sector to educate them on how to get rid of them and more importantly on how to prevent them . The great feedback from school nurses, proves to me that I chose a rewarding career path.
Yes the job title can be nit-picker, but it is so much more than that…..It is about helping out the community, giving kids their confidence back, and most important of all giving mom's their peace of mind and many times their sanity back!